Phoebe Brandt
We are forever grateful and proud for Phoebe's accomplishments for the Women's movement and in the pest control industry. Her philosophy remains integral to how we operate today and it will remain that way forever.
"Who's afraid of the Big Bad Bug?" Not Phoebe Brandt
Phoebe Brandt, better known as the "Lady Bug Killer" is a successful Dallas businesswoman in a very non-traditional role.
Her office is filled with charts and pamphlets covered with renderings of over-sized bugs drawn in shivering detail. It is not a typical woman's office, but then Miss Phoebe is not a typical businesswoman.
She owns a pest control service.
Miss Phoebe started out as a very happy housewife who had no intention of ever working. She worked part time in a department store while in high school. She got married rather than going on to college. She remained a happy housewife until age 37, when her husband lost his job of 22 years with a national pest control company while suffering from a medical emergency because the family did not/ could not transfer out of Dallas. Then he became ill, and Phoebe had to support both of them plus a fifteen-year-old daughter and a twelve-year-old son.
Unskilled but determined
"I couldn't even type," said Phoebe, "so my first thought was to take a job in a department store as a salesclerk, but we would have starved." She was totally unskilled for any well-paying job. In the beginning, she operated out of her home, keeping the equipment in the trunk of her car. When she was finally able to afford a large yellow page advertisement in 1962, the business expanded greatly. "People would call out of curiosity. They couldn't believe there was a woman-owned pest control service."
Phoebe owes her success to being able to relate to women. She treats the housewife with dignity, always putting her needs before the dollar. If an appointment couldn't be kept, she would call, rather than make the customer wait all day. She was able to understand the woman who didn't want the exterminator to come while the baby was napping, and the woman, who, upon spotting a mouse, wanted (and got) emergency service.
Satisfaction Guaranteed – Really
"If you're not completely satisfied, you don't owe me a thing," is Phoebe's sincere motto. Up against so much established competition, she decided to give the best possible service, and let satisfied customers spread the word.
Sometimes she found it helpful to play the role of the "helpless woman," whereby bankers, lawyers, and other experts were willing to offer advice. Because she followed the advice of these gentlemen, she never made any huge business errors. However, she is happy to see that the Women's Movement has accomplished some changes in business.
Years ago, she needed her husband's signature in order to get a bank loan to buy new trucks, even though she was the sole owner of the business. Phoebe has managed to combine many roles in her lifestyle. She is a mother and a nurturer – ready and willing to care for those who need her at home. She also is a sharp businesswoman who is able to carry this loving and caring role into the business world.
She is truly concerned about the feelings and welfare of her employees and of her customers, knowing that their happiness is the backbone of her success.
Written July 1976, Women's Center of Dallas, Equal Times.
The Lady Bug Killer: A Non-traditional role model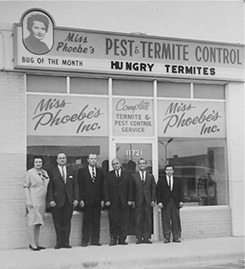 Miss Phoebe's Store Front